DO YOU HAVE WHAT IT TAKES? IF SO FILL OUT THE ONLINE APPLICATION OR CALL THE NUMBER ON THE POSTER.
REMEMBER "WE WANT YOU"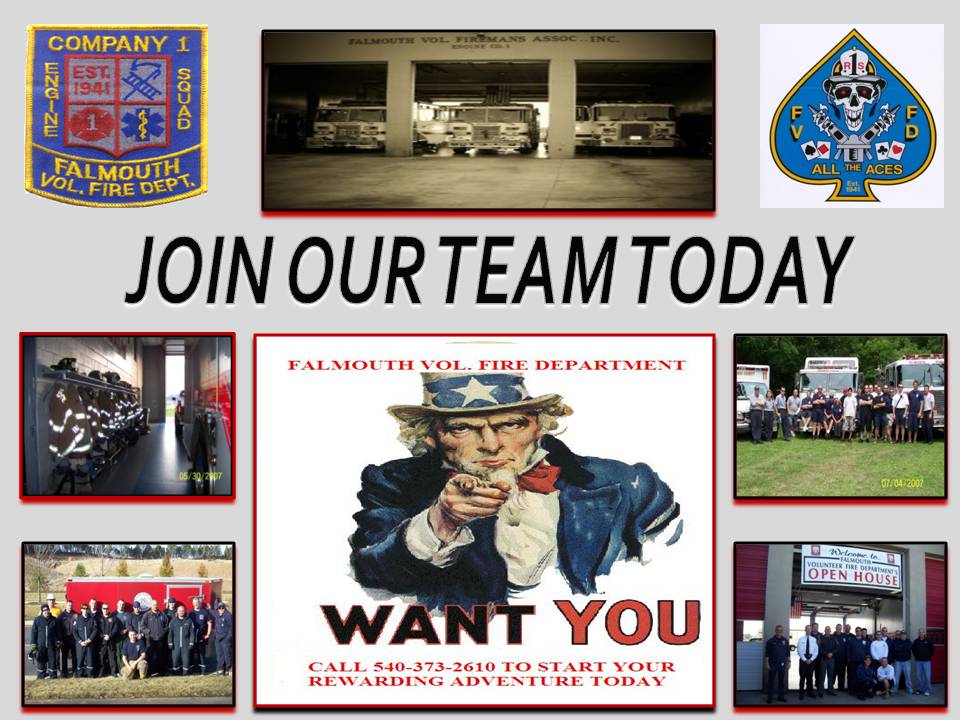 HELP US, HELP YOU! JOIN TODAY
To join we ask that you apply online by filling out a
Stafford County Fire/Rescue Volunteer Application
Please fill out the application and it will be processed by Stafford County Fire/Rescue Headquarters. Once you submit someone will contact you to complete preliminary information forms and a pre-entry criminal history check within one week of submitting your application. Please ensure you select "Falmouth Fire/Rescue Station" on your application, so it will be directed to our Department Chief & President.
---
Are you age 16 or 17?
Are you considering a career in the fire or EMS field?
Join

other high school students who are members of our junior firefighter/ems program. With proper training, you can respond to emergency incidents side by side with our volunteers.

You will need to obtain your parent's consent before completing the application.
---
Members of another fire/rescue station within Stafford County who have already completed their pre-entry processing (information packets & criminal history check) and wish to join the Falmouth Volunteer Team need to only complete a

Falmouth Fire/Rescue Application

. This application will need to be hand delivered to the Falmouth station.
---
If you don't have the time to complete the training required to perform fire fighting and emergency medical services or are not interested in handling emergency situations, then become an Associate Member within our Department and help any many other ways Are you the spouse or significant other of a member currently at our station or another, you can join as an Associate Member and serve with him or her. Our Associate Members are also needed to help out with our Fund Raising Activities on Saturday Nights, Fire and EMS Open Houses, food collection at Thanksgiving and Christmas for donation to less fortunate families within the community, and many other assisting duties at the station.
All New applicants are required to attend a monthly membership meeting; which is the second Thursday of each month at 7 p.m. at the Falmouth F/R Station at 250 Butler Road.
If you have any questions while completing the process, please contact Jimmy Kelley at 540-373-2610 feel free to stop by the station and have an officer assist you with completing the application onsite.
We look forward to you becoming the next member of our rewarding team!
---
♦ Our department is registered with the National Volunteer Fire Council's National Junior Firefighter Program. Check out their website for more information on the numerous awards and scholarship opportunities available to junior firefighters.